Capitalization

The way the Ratchet & Clank wiki capitalizes words has changed; therefore, this article should be checked, and, if necessary, capitalization should be fixed.
For more information, see the new capitalization policy.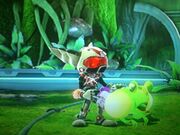 The Alpha Sonic Eruptor was the upgraded version of the Sonic Eruptor. It was green and purple and was very powerful. When an enemy was hit by the Alpha Sonic Eruptor, some sort of green Napalm would stick to them, damaging them over time. It also had a wider blast radius.
Appearances