Capitalization

The way the Ratchet & Clank wiki capitalizes words has changed; therefore, this article should be checked, and, if necessary, capitalization should be fixed.
For more information, see the new capitalization policy.
Armors were suits which offered protection to its user. Although not present in the first Ratchet & Clank, armors made their apparition in the next games, starting with Going Commando. Throughout these games, Ratchet was able to purchase armors to protect himself against tougher enemies. More resistant armors allowed Ratchet to become shielded from a certain percentage of all enemy attacks.
In Ratchet & Clank: Size Matters, Ratchet could find and win various parts of different sets of armor. Gloves, footwear, bodysuits, and helmets were the different types. By completing sets or mixing and matching parts to certain combinations, he could increase damage resistance and special attacks.
Planet Endako was where fashion experts designed and produced all of MegaCorp's armors.[1]
Armor and suits in individual games
Ratchet
Ratchet
Ratchet
Ratchet: Deadlocked
Ratchet
Ratchet
Clank
Ratchet
Qwark
Ratchet & Clank Future: Tools of Destruction
Ratchet
Ratchet
Ratchet
Clank
Qwark
Nefarious
Ratchet
Clank
Qwark
All Characters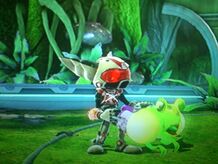 Ratchet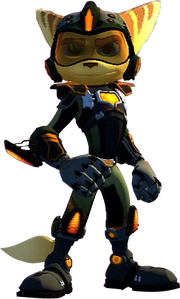 Ratchet
Trivia
"Let's just stomp around until we squish it!"

This "Trivia" section, or part of it, needs improving and should ideally be integrated into a "Behind the scenes" section and/or the main article, with the trivia section eventually reduced or, ideally, removed entirely. Additionally, see the talk page for further information and to discuss the exact implications of these improvements. Once the "Trivia" section has been removed or appropriate improvements have been made in accordance with discussion, please remove this template.
Appearances
Non-canon
Notes and references