Capitalization

The way the Ratchet & Clank wiki capitalizes words has changed; therefore, this article should be checked, and, if necessary, capitalization should be fixed.
For more information, see the new capitalization policy.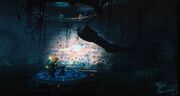 The Azeril Caves were dark caves on the planet Yerek. Ratchet and Clank traveled through these caves in order to locate Pollyx who was kidnapped by Vendra Prog and Neftin Prog.[1]
Appearances
Notes and references