Capitalization

The way the Ratchet & Clank wiki capitalizes words has changed; therefore, this article should be checked, and, if necessary, capitalization should be fixed.
For more information, see the new capitalization policy.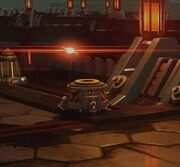 Blarg Generators are small grey and yellow robotic machines designed by Drek Industries. They would run around and spawn Chompers, Bladeballs and Robomutts to assist the Blarg, but pose no real threat to Ratchet.
Appearances