Capitalization

The way the Ratchet & Clank wiki capitalizes words has changed; therefore, this article should be checked, and, if necessary, capitalization should be fixed.
For more information, see the new capitalization policy.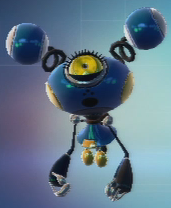 Blip
was a
maintenance robot
on board the
Starship Phoenix II
, although she did not appear in the main story as she is only playable as multiplayer skin.
Multiplayer
It is possible to play with a Blip skin in Ratchet & Clank: Full Frontal Assault multiplayer with the Robot Pack.
Appearances