Capitalization

The way the Ratchet & Clank wiki capitalizes words has changed; therefore, this article should be checked, and, if necessary, capitalization should be fixed.
For more information, see the new capitalization policy.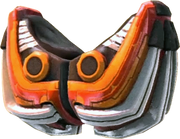 The Blitzer was a melee weapon that consisted of two large punching gloves.[1] Similar to the Walloper, the Blitzer would lock onto a target, and then charge into them from a considerable range. If the heroes used it together on the same target, the attack would become more powerful. The Blitzer also had a recoil after every punch, that caused the character to wield it to bounce back.
Appearances
Notes and references
See also