Capitalization

The way the Ratchet & Clank wiki capitalizes words has changed; therefore, this article should be checked, and, if necessary, capitalization should be fixed.
For more information, see the new capitalization policy.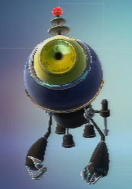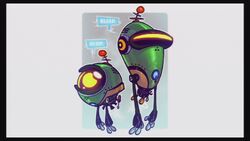 Bloop was a short Maintenance Robot working on board the Starship Phoenix II and the Nebulox Seven Prison Ship alongside another fellow maintenance robot, Bleep.
Description and biography
QForce Bloop
Bloop is firat seen on the Starship Pheonix along with Bleep and Blip. He is green in colour, with a yellow eye and a red antenna. Bloop appears to have a playful personality, laughing at Bleep constantly. There is also a blue Bloop.
Nebulox Bloop
Another model of the maintenance robot can be found inside the Nebulox Prison Ship in Into the Nexus. He uses a screwdriver to work on the ship. This version is grey with a blue eye.
Multiplayer skin
It is possible to play with a Bloop skin in Ratchet & Clank: Full Frontal Assault's multiplayer with the Robot Pack.
Appearances