Capitalization

The way the Ratchet & Clank wiki capitalizes words has changed; therefore, this article should be checked, and, if necessary, capitalization should be fixed.
For more information, see the new capitalization policy.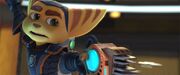 The Buzz Blades was a weapon manufactured by Gadgetron which shot lethal saw blades which ricocheted off enemies and almost any surface.
Appearances