Capitalization

The way the Ratchet & Clank wiki capitalizes words has changed; therefore, this article should be checked, and, if necessary, capitalization should be fixed.
For more information, see the new capitalization policy.
Clank… you speak nerd.

This article's layout needs improvements to comply with the Manual of Style.
Reason: No reason given.
Skins are cheats that change the player's look. They could give Ratchet, Clank, Qwark and Nefarious different outfits and even change them to look like another playable character. Skins could be bought using titanium bolts, Dread Points, hero bolts or gold bolts. Some skins could also be equipped in the cheats menu by acquiring a certain amount of skill points. There were also skins in the multiplayer.
Skins
Ratchet
Clank
Digital Qwark
In Deadlocked's singleplayer, skins could be obtained by collection Glamour Stars, that could be got by doing achievements.
Ratchet
Ratchet 2
Clank
Ratchet
Qwark
Ratchet
Clank
Qwark
Nefarious
Ratchet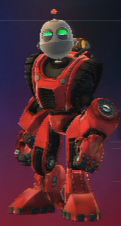 Qwark
Multiplayer
Ratchet
Clank
Jak
Freedom League Jak
Racer Jak
Barbarian Jak
Sly
Pirate Sly
Ninja Sly
Vincetti Goon Sly
Bentley
Classic Bentley
Pilot Bentley
Future Bentley
Daxter
War Daxter
Pants Daxter
Native Alien Daxter
Trivia
In an unlockable feature of Tools of Destruction called Tools of Production, an Insomniac Games worker hinted that a Clank suit for Ratchet, with Ratchet on his back, was canceled from Ratchet & Clank Future: Tools of Destruction. However, he also hinted that this may be put in future games. Coincidentally, there is a cheat in Secret Agent Clank that makes Clank carry Ratchet on his back.
Skins have no effects on armor, health, or damage. They are just for a bit of fun.
In Ratchet & Clank: All 4 One, Dr. Nefarious only has six skins while Ratchet, Clank, and Qwark all have seven.
Appearances
Non-canon
Notes and references