Capitalization

The way the Ratchet & Clank wiki capitalizes words has changed; therefore, this article should be checked, and, if necessary, capitalization should be fixed.
For more information, see the new capitalization policy.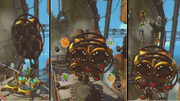 Cluster Cannon was a cannon that launched up to four of the heroes across large gaps.[1]
Gameplay
First, the Cluster Cannon opens to reveal four buttons. If each player steps on a button, the machine will close. Then graphics will appear, indicating that the players must move the left analog stick in a circular motion to wind back each barrel. When all of the barrels are wound back, the cannon will shoot the team up to farther locations.
Appearances
Notes and references