Capitalization

The way the Ratchet & Clank wiki capitalizes words has changed; therefore, this article should be checked, and, if necessary, capitalization should be fixed.
For more information, see the new capitalization policy.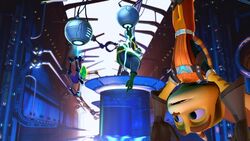 The Creature Collectors Vault was a vault inside Ephemeris that housed many creatures and critters. Ephemeris captured these creatures, and either placed them in the vault or in artificial habitats. The vault was patrolled by several minions, although most were Cleaner Minions.
History
All 4 One
Ratchet, Clank, Qwark and Nefarious were held captive inside the vault after being captured by the Creature Collector. After being mistaken as minions, they had to pass a "Gadget Ceritifcation" test in order to escape being probed. However, the Steward eventually noticed their trespassing and they were taken by Commander Spog to be killed.
Eventually, the true purpose of the vault was revealed. It was to house creatures for Loki souls to inhabit, in order to conquer the galaxy in numbers.
8-Bit Mini Mayhem
In the game, the heroes needed to escape the vault by killng enough minions to take them to the next level.
Known creatures trapped inside the vault
Appearances
Non-canon