Capitalization

The way the Ratchet & Clank wiki capitalizes words has changed; therefore, this article should be checked, and, if necesary, capitalization should be fixed. For more information, see the new capitalization policy.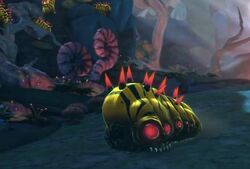 Dreadgrubs
are large grubs native to the
Deadgroves
of planet
Magnus
. They tend to travel in groups. Despite their size, these creatures will attack anything that moves. They roll up into balls, as they smash into prey with their spikes on their back. A single hit will take them out. They are mostly found in the Deadgrove, but a few are found in
N.E.S.T
There are many forms of them, deep in the abyss of the Deadgrove, is a
Abyss Dreadgrub
which is basically the same thing except being more of a blueish color. The
Grivelnox
spits out
Fire Dreadgrubs
which are red and on fire. It's unknown if this is an adult creature or maybe a grub of the
Magnus Grove Beetle
.
Types
Appearances