Capitalization

The way the Ratchet & Clank wiki capitalizes words has changed; therefore, this article should be checked, and, if necessary, capitalization should be fixed.
For more information, see the new capitalization policy.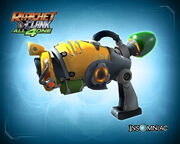 The Elite Combuster was an upgrade for the Combuster. It cost 30,000 bolts. It was identical to the Combuster except that it had three barrels, similar to the Magma Combuster.
It was a useful weapon thanks to the large ammunition hold. When Ratchet, Clank, Qwark, and Nefarious fired all at once, it became quicker, increasing its damage but losing more ammo in the process.
Appearances