Capitalization

The way the Ratchet & Clank wiki capitalizes words has changed; therefore, this article should be checked, and, if necessary, capitalization should be fixed.
For more information, see the new capitalization policy.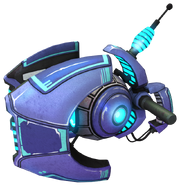 The Elite Dark Fission Tether was the upgraded version of the Darkstar Fission Tether. It carried more electrical energy making the chain more shocking and powerful.
Appearances