Capitalization

The way the Ratchet & Clank wiki capitalizes words has changed; therefore, this article should be checked, and, if necessary, capitalization should be fixed.
For more information, see the new capitalization policy.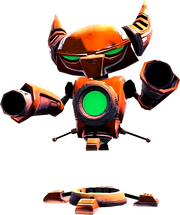 Elite Doppelbanger decoys had the ability to shoot down enemies. Like the Doppelbanger, there could only be one at a time and enemies would aim at them instead of your allies.
Strategy
They were very useful for defeating Sentry Minions.
Appearances