Capitalization

The way the Ratchet & Clank wiki capitalizes words has changed; therefore, this article should be checked, and, if necessary, capitalization should be fixed.
For more information, see the new capitalization policy.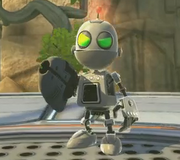 The Elite Zoni Blaster had the ability to slow down every enemy in the area at once, except for the user. It was the upgraded form of the Zoni Blaster.
Appearances