Capitalization

The way the Ratchet & Clank wiki capitalizes words has changed; therefore, this article should be checked, and, if necessary, capitalization should be fixed.
For more information, see the new capitalization policy.
Evil Zurkons were Synthenoids created by Drek Industries to ward off anyone who intruded the factories on planet Quartu, especially anyone who was a Galactic Ranger. As their name implied, they were evil versions of Mr. Zurkon, which Alonzo Drek sent out to go after Ratchet, Clank, and Cora Veralux when they infiltrated Drek Industries. They were assisted by a much larger security Synthenoid named Mrs. Zurkon. Evil Zurkons were always seen in groups of many.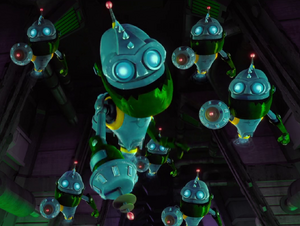 Appearances