Capitalization

The way the Ratchet & Clank wiki capitalizes words has changed; therefore, this article should be checked, and, if necesary, capitalization should be fixed. For more information, see the new capitalization policy.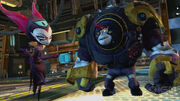 Fred Tatasciore is an American voice actor who voiced Libra in Ratchet & Clank Future: A Crack in Time. He is also the voice of Neftin Prog in Ratchet & Clank: Into the Nexus.[1]
Characters
Other
Notes and references
↑ @BrianAllgeier on Twitter.
---