Capitalization

The way the Ratchet & Clank wiki capitalizes words has changed; therefore, this article should be checked, and, if necessary, capitalization should be fixed.
For more information, see the new capitalization policy.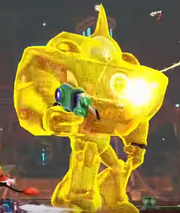 A Gadgetron Energy Shield was an energy shield manufactured by Gadgetron. It produced a gold colored shield that deflect most munitions with ease and was said to be impregnable. Stuart Zurgo equipped his Qwark Mech with such a shield, which made QForce attacks on shield pointless, forcing them attack the mech's backside, where the mech powered the shield deflector.[1]
Appearances
Notes and references