Giant Clank
Talk

3
5,434pages on
this wiki
Giant Clank
was
Clank
transformed into an
Ultra-Mech
, first seen in the game
Ratchet & Clank
. While
transformed, he was enlarged and fitted with a wide array of heavy machinery. He could shoot rockets from his arms, launch energy bombs, knock enemies out cold with one punch, and crush opponents under his huge weight. He was around 50 times taller while being giant (around 110 feet or 33.5 meters). However, he can only transform when standing on a certain large pad. The technology that enabled Clank to enlarge was developed by a scientist on planet
Quartu
, and was originally intended for
Drek
's use. Clank used this special form several times, including the fight against the
Ultra-Mech Unlimited
robots, the beginning of the fight against Chairman Drek.
In
Going Commando
, Giant Clank fought against the
Thugs-4-Less Leader
on
Dobbo Orbit
so that he and
Ratchet
were able to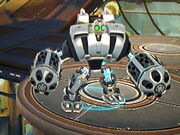 enter the
Megacorp Games
on planet
Joba
. He also fought the
Mothership
on the moon over
Damosel
. In
Up Your Arsenal
, Giant Clank fought the
Terror of Talos
in a
Secret Agent Clank
episode.
In Size Matters, Giant Clank flew through space fighting Technomite ships as well as fighting Otto Destruct.
In Secret Agent Clank, Giant Clank flew through the Quasar Fields on his way to Hydrano to find his ship.
Giant Clank appears in Full Frontal Assault. Comically, he has a lombax plushy on his back. Giant Clank has no extra abilities in this game but is used as Clank's armor, he can also use the Fists of Justice. He is also a lot smaller, just being slightly larger than Qwark; this is likely due to Al's De-Bigification Ray.
Let's just stomp around until we squish it!

This trivia section (or part of it) needs improving and should ideally be integrated into a behind the scenes section and main article with the trivia section eventually removed or reduced. See the talk page for further information and to discuss the exact implications of these improvements.
Once the trivia has been removed or appropriate improvements have been made in accordance with discussion please remove this template.
In his giant form, Clank's doppelgänger, Klunk, was even stronger still, and more heavily armed but seemed to be smaller.
In Ratchet & Clank, when Clank transformed, he could only jump a few feet high, but in the next two games he could jump much higher; in Going Commando, this can be explained by the lower gravity present when Clank transformed.
Appearances
Edit