Capitalization

The way the Ratchet & Clank wiki capitalizes words has changed; therefore, this article should be checked, and, if necessary, capitalization should be fixed.
For more information, see the new capitalization policy.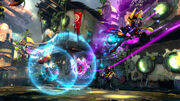 A Grav-Stream was a purple beam that allowed users to travel through the beam in mid-air, over areas such as canyons. A Grav-Stream could be created using a Grav-Tether and the beam was deployed between two Grav Targets.[1]
Appearances
Notes and references