Capitalization

The way the Ratchet & Clank wiki capitalizes words has changed; therefore, this article should be checked, and, if necessary, capitalization should be fixed.
For more information, see the new capitalization policy.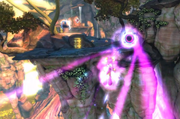 The Grav Tether was a gadget used by Ratchet.[1] It created a purple Grav-Stream deployed between Grav Targets and let the user float between the beams in a specific direction.[1][2] It was created by Pollyx.[3]
Behind the scenes
The Grav-Tether is used by holding L1, aiming at a Grav Target and then pressing
.[2] To exit the Grav-Stream the player must press
.
Appearances
Trivia
When in a Grav-Stream, a song known as "Gravtether Jayne" plays.
Sources
Ratchet & Clank: Into the Nexus game manual‏‎
Notes and references
---