Capitalization

The way the Ratchet & Clank wiki capitalizes words has changed; therefore, this article should be checked, and, if necessary, capitalization should be fixed.
For more information, see the new capitalization policy.
Gravity-bending[1] was a power granted to Clank by Pollyx through the usage of a Rift Cracker's trandimensional software upgrade. When using Gravity-bending, Clank's body metal would turn black, and he would radiate a black aura.[1]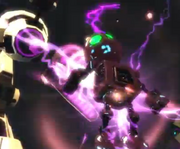 Gravity-bending was only usable in the Netherverse and the Credits.[2]
Appearances
Sources
Ratchet & Clank: Into the Nexus game manual‏‎
Notes and references