Capitalization

The way the Ratchet & Clank wiki capitalizes words has changed; therefore, this article should be checked, and, if necessary, capitalization should be fixed.
For more information, see the new capitalization policy.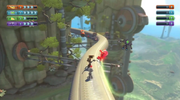 Grind Tubes were similar to grindrails; however, they were far larger and allowed all 4 players to grind on them at the same time.[1] They were encountered on Luminopolis and planet Magnus.
Appearances
Notes and references
See also