Capitalization

The way the Ratchet & Clank wiki capitalizes words has changed; therefore, this article should be checked, and, if necessary, capitalization should be fixed.
For more information, see the new capitalization policy.
Clank… you speak nerd.

This article's layout needs improvements to comply with the Manual of Style.
Reason: No reason given.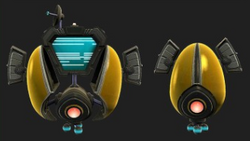 The
Holo-Diary
were recordings made by Dr.Croid. They showed Dr. Croid's and
Nevo Binklemeyer
's experimenting with the Creatures on Magnus and also Nevo's betrayal and kidnapping of
Mr. Dinkles
. Our heroes found these Holo-Diary's during their adventure on planet
Magnus
.
Appearances
See also