Capitalization

The way the Ratchet & Clank wiki capitalizes words has changed; therefore, this article should be checked, and, if necessary, capitalization should be fixed.
For more information, see the new capitalization policy.
Hot Bot was a skin originally in Ratchet & Clank: Up Your Arsenal multiplayer. She made a later appearance as a skin in the multiplayer of Ratchet & Clank: Size Matters. Hot Bot had a teddy bear on her back like Luna and in a similar way to how Ratchet holds Clank on his back.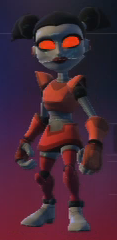 Hot Bot could represent any of a number of female robotic characters from the Ratchet and Clank series, as her colored eyes and two pony tails resemble those of many other characters in the series. However, she represents the Helpgirl, as she is on the cover of Hotbot magazine, and her name backs this up.
Appearances