Capitalization

The way the Ratchet & Clank wiki capitalizes words has changed; therefore, this article should be checked, and, if necessary, capitalization should be fixed.
For more information, see the new capitalization policy.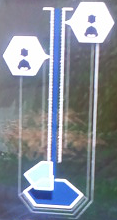 The Invasion Detector is part of the heads-up display in Ratchet & Clank: Full Frontal Assault. It appears primarily during the assault stage and is used as a visual guide to judge what enemies are approaching the player's base, which direction they are coming from and how close they are to the base.[1]
Appearances
Notes and references