Capitalization

The way the Ratchet & Clank wiki capitalizes words has changed; therefore, this article should be checked, and, if necessary, capitalization should be fixed.
For more information, see the new capitalization policy.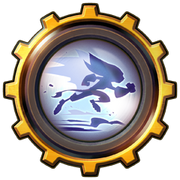 Ironmadman is a gold trophy in Ratchet & Clank: Full Frontal Assault. The trophy is gained by using the Hoverboots for at least 112 Miles, running at least 26.2 Miles and Hoverboot Gliding for at least 2.4 miles across all game modes.
Appearances
See also