Capitalization

The way the Ratchet & Clank wiki capitalizes words has changed; therefore, this article should be checked, and, if necessary, capitalization should be fixed.
For more information, see the new capitalization policy.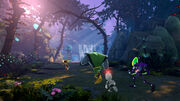 Kaleero Trail was part of Terawatt Forest on Magnus.
History
After defeating the King Sepiad and surviving through Octonok Cay, the heroes traveled through Kaleero Trail in an attempt to find Dr. Croid and get his help in stopping Nevo Binklemeyer.
Enemies in the level