Capitalization

The way the Ratchet & Clank wiki capitalizes words has changed; therefore, this article should be checked, and, if necessary, capitalization should be fixed.
For more information, see the new capitalization policy.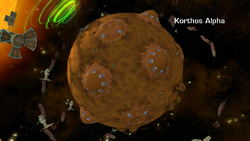 Korthos Alpha was a desert moon filled with Space Pirate remains, space junk. Korthos Alpha was currently the only moon controlled by the Vullards in the Korthos Sector, though Korthos Beta was once a Vullard colony until they left it and the Agorians moved in. It was one of the harder, more dangerous moons. One Zoni and one gold bolt could be found on the moon. The moon was full of hostile wildlife, despite the Vullard presence there. Ratchet could do an optional mission on this moon, where a Vullard business asks Ratchet to destroy his Vullard rival's holo-boards and then place his own around the Korthos Sector.
Wildlife
Appearances
---
See also