Capitalization

The way the Ratchet & Clank wiki capitalizes words has changed; therefore, this article should be checked, and, if necessary, capitalization should be fixed.
For more information, see the new capitalization policy.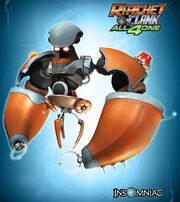 Large Bouncers were minions of the Creature Collector.[1] They had an orange shell with two eyes and two large arms with small pincers at each. Similarly to their smaller counterparts the had sirens on their shoulders and they floated in mid-air just above the ground. When seeing an enemy, they would open up their shell.
Appearances
Notes and references
See also