Capitalization

The way the Ratchet & Clank wiki capitalizes words has changed; therefore, this article should be checked, and, if necessary, capitalization should be fixed.
For more information, see the new capitalization policy.
The Mechanoid Factory was a large factory on planet Kalidon. The Technomites used it to produce large, heavily-armored robots, called Mechanoids. The giant ape-like mutant, Mungo, also dwelled in the factory. The abandoned sections of the factory were often used for Skyboard Racing.
Enemies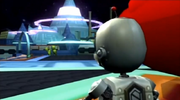 Bosses
Appearances