Capitalization

The way the Ratchet & Clank wiki capitalizes words has changed; therefore, this article should be checked, and, if necessary, capitalization should be fixed.
For more information, see the new capitalization policy.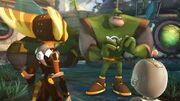 Meero City Center was center of the Meero Ruins, formerly known as Meero. It was a location on Yerek explored by Ratchet and Clank. It was abandoned as it was seemingly haunted; however, Ratchet and Clank found the haunting was caused by Nethers escaping from the Netherverse.[1]
Appearances
Notes and references
---