Capitalization

The way the Ratchet & Clank wiki capitalizes words has changed; therefore, this article should be checked, and, if necessary, capitalization should be fixed.
For more information, see the new capitalization policy.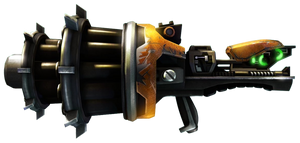 The
Mega RYNO V
was the upgraded V5 version of the
RYNO V
. It had more
ammo
and fired more rockets per second, and obviously did colossal amounts of damage. It upgraded into the
Omega RYNO V
, which was available for purchase in
Challenge Mode
.
Appearances