Capitalization

The way the Ratchet & Clank wiki capitalizes words has changed; therefore, this article should be checked, and, if necessary, capitalization should be fixed.
For more information, see the new capitalization policy.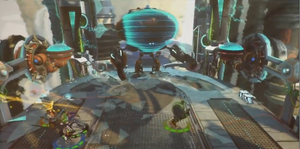 Mr. Perkins was a Tank Minion that was encountered by the heroes in the Vertigus Cliffs of N.E.S.T He was sent by Commander Spog to kill the heroes.
Description
Mr. Perkins was physically like a typical Tank Minion; however, he had a shield that could only be taken down by performing a mortar slam on the two buttons on either side of him. This allowed the heroes to get a shot on him. When reduced to half health, the shield reappeared.
He had two main attacks, one was a sweeping beam from his arms like other Tank Minions, while the other launched rockets at targets on the ground.
The Critter Strike needed to be used on Mr Perkins as a team to morph him into a critter, and unlocking the skill point: Poor Mr. Perkins.
Appearances