Capitalization

The way the Ratchet & Clank wiki capitalizes words has changed; therefore, this article should be checked, and, if necessary, capitalization should be fixed.
For more information, see the new capitalization policy.
" A family that slays together stays together. "
―Mrs. Zurkon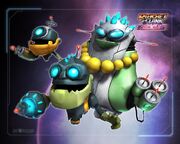 Mrs. Zurkon was Mr. Zurkon's wife and Zurkon Jr.'s mother. She was a Synthenoid. She is summoned when Mr. Zurkon is upgraded to V3. Armed with a built in blaster, she wore pearls around her neck and was larger than her son and husband.
Trivia
Mrs. Zurkon attended a Pilates class.
Appearances
---