Capitalization

The way the Ratchet & Clank wiki capitalizes words has changed; therefore, this article should be checked, and, if necessary, capitalization should be fixed.
For more information, see the new capitalization policy.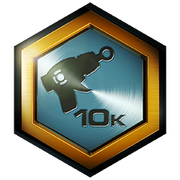 My Blaster Runs Really, Really Hot is a bronze trophy in Ratchet & Clank Future: A Crack in Time. Score 10,000 points on My Blaster Runs Hot to obtain this trophy.
Appearances
|es = Blasters al rojo vivo, muy vivo
See also