Your name's Percival?

The term "Nefarious's hovercraft" is conjectural. The real name is unknown, and a non-canonical nickname or title is used instead. See the reasons for this title in the "Behind the scenes" section below and/or the relevant discussion on the talk page, if they exist.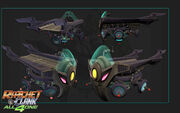 Nefarious's hovercraft was a vehicle owned by Nefarious and piloted by Lawrence. It was used to ambush Ratchet, Clank, and Qwark. Its energy was drained by the Z'Grute thereafter awakened.
Trivia
Appearances
---