Capitalization

The way the Ratchet & Clank wiki capitalizes words has changed; therefore, this article should be checked, and, if necessary, capitalization should be fixed.
For more information, see the new capitalization policy.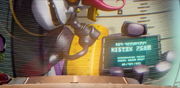 Neftin Prog was a Cyborg Nether and an adversary of Qwark.
Biography
Neftin was known to have attempted to turn the entire population of Aridia colorblind twice. However, he was stopped by Captain Qwark both times.
Appearances
---