Capitalization

The way the Ratchet & Clank wiki capitalizes words has changed; therefore, this article should be checked, and, if necessary, capitalization should be fixed.
For more information, see the new capitalization policy.
Your name's Percival?

The term "Netherflyer" is conjectural. The real name is unknown, and a non-canonical nickname or title is used instead. See the reasons for this title in the "Behind the scenes" section below and/or the relevant discussion on the talk page, if they exist.
Netherflyers were a large type of winged Nether that had higher health and damage than Netherwarriors. They also had dual blasters instead of one.
Netherbrutes were a stronger variant of the Netherflyer.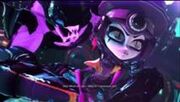 Encountered on
Appearances