Capitalization

The way the Ratchet & Clank wiki capitalizes words has changed; therefore, this article should be checked, and, if necessary, capitalization should be fixed.
For more information, see the new capitalization policy.
" An O2 Mask! Now I can finally breathe underwater! "
―Ratchet, upon finding the O2 Mask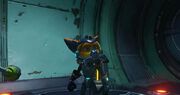 The O2 Mask was an item attachment for the Ranger Armor which allowed for breathing underwater. This was accomplished though providing the wearer with a supply of oxygen by synthesizing and recycling it. Ratchet discovered the O2 Mask, which the Blarg had stashed while exploring the Pumping Stations, on Pokitaru.
Appearances
---