Capitalization

The way the Ratchet & Clank wiki capitalizes words has changed; therefore, this article should be checked, and, if necessary, capitalization should be fixed.
For more information, see the new capitalization policy.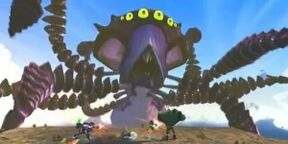 The Cobalian Octomoth was a monster that was taken by Commander Spog to the Aldaros Plains to confront the heroes.
Physical Appearance
The Cobalian Octomoth was a large squid-like creature with predominately purple skin. It had eight arms, six green eyes and a scorpion-like tail.
Walkthrough
Appearances
See also