Oltanis
Talk

3
6,081pages on
this wiki
Oltanis
Astrographical
Sector

Unknown

Galaxy

Solana

Suns

Unknown

Moons

None

Physical
Size

Large

Atmosphere

Breathable

Climate

Temperate

Gravity

Normal

Primary Terrain

Urban Cityscape

Societal
Government
Population

Unknown, population dropped heavily from Blarg Bombings

Major cities
Affiliation

Galactic President

The Ratchet & Clank wiki has a walkthrough for Oltanis. See Oltanis/Walkthrough.
"Men, you are about to embark on a very dangerous mission! We will be launching a heavily armed surprise attack from our new moonbase against a completely unarmed planet. Actually that doesn't sound too dangerous..."
Oltanis
was a planet plagued by deadly lightning storms (which was the reason
Clank
couldn't go and explore with
Ratchet
). In order to stop the storms from causing any damage, the residents utilized massive lightning attractors that harnessed the energy. The citizens of Oltanis were completely unarmed, preferring to live peaceful lives rather than to go to war. This made the planet an easy target for
Chairman Drek
of the
Blarg
, during his attempt to create a
new planet
for his people on
Orxon
. The stated aim of the unprovoked attack was the theft of Gorda City's numerous power generators, which would be used to supply energy to Drek's New Planet instead. The population suffered heavily at Drek's hands, but have likely recovered from the disaster since then.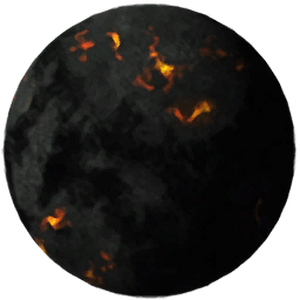 Characters on Oltanis
Enemies
Collectibles
You can purchase the Personal Delivery Assistant (PDA) for 1,000 bolts after seeing "Captain Qwark". The Morph-O-Ray is also acquired after searching the destroyed city.
Trivia
Appearances
See also