Capitalization

The way the Ratchet & Clank wiki capitalizes words has changed; therefore, this article should be checked, and, if necessary, capitalization should be fixed.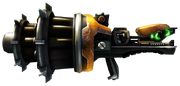 The Omega RYNO V was the Omega version of the Mega RYNO V. As weapons from the Rip Ya A New One series, it was one of the deadliest weapons in the known universe, at the same level of deadlines as its predecessor, the Omega RYNO 4-Ever. When fired it released a number of rockets towards its target(s) and sometimes it played the 1812 Overture, a classic Tchaikovsky piece that is known for using cannon fire as part of its music. The Omega RYNO V mainly launched hails of bullets in a spraying formation in a similar fashion to two overlapping miniguns in tune with the 1812 Overture. Also that it launched a single missile (similar to the Negotiator) from the center barrel of the gun. The weapon could only be purchased for 1,000,000 bolts in Challenge Mode when Ratchet had the Mega (Level 5) version of the RYNO V. The weapon had a colossal 3000 rounds of ammo which it tended to consume at an amazing rate.
Trivia
When upgraded to the maximum level, the upgrade screen said 'Level 10' whereas the H.U.D. said 'VX'. This applied to all Omega weapons.
The RYNO V was obtained from the Smuggler in Axiom City, Terachnos, but the Omega version was only obtained by purchasing it from a GrummelNet vendor.
Appearances