Capitalization

The way the Ratchet & Clank wiki capitalizes words has changed; therefore, this article should be checked, and, if necessary, capitalization should be fixed.
For more information, see the new capitalization policy.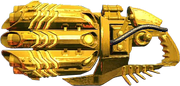 The Omega RYNO VII Xtreme was the Omega version of the RYNO VII Xtreme. It was more powerful and added more Raritanium upgrade slots. It was Golden in color.
Cost
It could be bought for 1,000,000 bolts and 1 gold bolt.
Upgrading
It could be upgraded to V6.
Appearances
See also