Capitalization

The way the Ratchet & Clank wiki capitalizes words has changed; therefore, this article should be checked, and, if necessary, capitalization should be fixed.
For more information, see the new capitalization policy.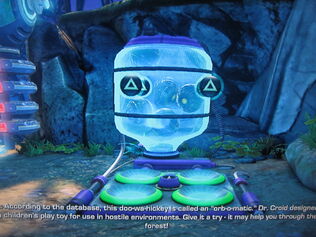 The
Orb-o-matic
was a
gadget
in
All 4 One
that was invented by
Dr. Croid
. Dr. Croid designed this as a children's play toy that could be use in hostile environments. The heroes used this to conduct electricity to power up
Tesla Orbs
, to activate certain machinary.
The orbs themselves were made of a durable, semi-toxic polymer alloy.
Appearances
---