Capitalization

The way the Ratchet & Clank wiki capitalizes words has changed; therefore, this article should be checked, and, if necessary, capitalization should be fixed.
For more information, see the new capitalization policy.
The Plasmabomb Launcher was a grenade launcher weapon in Ratchet & Clank: All 4 One. It would launch grenades to far distances, and was useful for taking out Sentry Minions behind cover.
When equipped, the trajectory of the grenade launch was shown when aiming.
It was also useful for taking out multiple targets at once.
It will also appear in Ratchet & Clank: Full Frontal Assault.[1]
Guide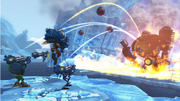 The Plasmabomb Launcher was useful against the Octomoth and the Z'Grute. When upgraded to the Elite Plasmabomb Launcher it would consist of 5 mini-bombs that sprouted out of the Plasmabomb when it came in contact with the floor.
Appearances
Notes and references