Capitalization

The way the Ratchet & Clank wiki capitalizes words has changed; therefore, this article should be checked, and, if necessary, capitalization should be fixed.
For more information, see the new capitalization policy.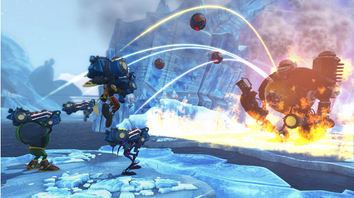 The Polar Sea was a location on planet Magnus. The heroes had to escape it. The area has few creatures strong enough to survive in the harsh climate. Besides a few types of Critters, the area is home to Grungoths, Alpha Grungoths and Flabberfish. There is also a large presence of Minions here who hunt for Grungoths.
Segments
Enemies
Trophies
Trivia
Appearances