Capitalization

The way the Ratchet & Clank wiki capitalizes words has changed; therefore, this article should be checked, and, if necessary, capitalization should be fixed.
For more information, see the new capitalization policy.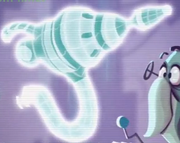 Protomorphic Energy Extractors were devices created by Nevo Binklemeyer and Croid. The devices where the main part of the Loki Master's plan. The Loki wanted to use them to be able to possess creatures worthy of their intelligence.
Appearances