Capitalization

The way the Ratchet & Clank wiki capitalizes words has changed; therefore, this article should be checked, and, if necessary, capitalization should be fixed.
For more information, see the new capitalization policy.
Clank… you speak nerd.

This article's layout needs improvements to comply with the Manual of Style.
Reason: No reason given.
The RYNO VII was a weapon used by Ratchet and the seventh weapon in the Rip Ya A New One weapon series. It was invented by The Plumber and Gadgetron, it functioned a lot like the RYNO V, and it played the song "Night on Bald Mountain."
Overview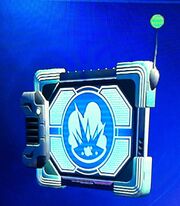 It was said that building a weapon even more powerful than the previous six RYNOs was impossible; however, the creation of the RYNO VII proved non-believers wrong. The Holo-Plan therefor was split by The Plumber into nine pieces, so that it would not fall into the wrong hands.
It was obtained by Ratchet when he had collected all 9 RYNO VII Holo plans, and gave them to The Plumber on Thram. It later upgraded to the RYNO VII Xtreme. The Omega RYNO VII Xtreme could be bought on challenge mode after upgrading it to the RYNO VII Xtreme for 1,000,000 bolts and 1 gold bolt.
Appearances
Notes and references